Hey there! If this is your first time here, why not sign up for updates via email in the sidebar over on the left? 😉
This is a short story about a couple of embarrassing incidents that lead me to choose my transportation more wisely.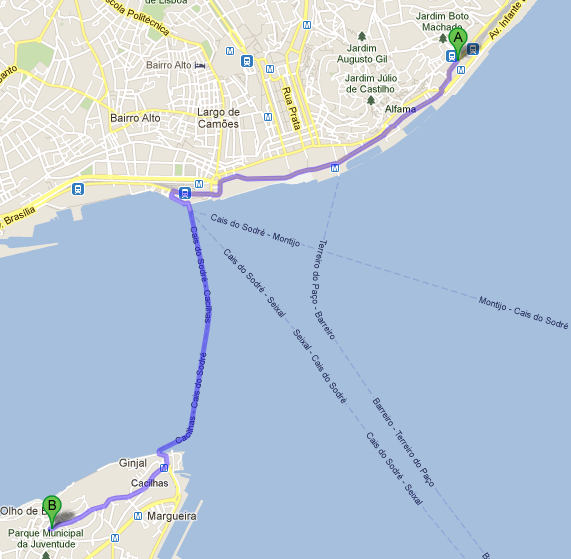 Whenever possible I use my bike to get where I'm going. When I lived in Lisbon I didn't have a car. There were plenty of taxis and public transportation, but I still used my bike whenever possible. I was mixing and recording a series of concerts with the band O'Que Strada that required me to carry a considerable amount of equipment from my apartment near Santa Apolonia in Lisbon to the Incrível Club in Almada (see map above). I needed to cycle a couple of miles to the ferry and then another mile up to the theatre. This was before I discovered the panier technology so I was carrying a large backpack filled with heavy equipment, plus a camera bag on top. I only made it about a block from my apartment when something startled me. I hit my brakes and flew over the handle bars landing face-first on the pavement. As I laid their in shock for a few seconds I felt my teeth with my tongue and though, "Oh shit, I just knocked out all of my teeth."
I went strait to the dentist. Luckily, the damage was minor. Two teeth had been pushed down. After a couple of weeks the gums pulled them back up part-way. One was fine and the dentist just chopped off the bottom to put it back in alignment with the others. The other was disconnected from the roots, but was salvaged through endodontic therapy of the root canal.
God I wish I had taken a taxi that day. There are two things I do now that make me feel much safer caring a load on a bike. One is that I have an internal hub so my chain can't fall off. The second is that I use pannier bags instead of a backpack to keep the weight lower and my bike more stable.
The second story is pretty simple, but again I was carrying too much weight in the wrong way. On my way to record a voice over for the play FightingMac! I twisted my ankle running down the stairs to catch a BART train while carrying two heavy cases of rack gear. It was my first work with this company so I didn't want to be late, but as I limped around for the next couple of weeks I felt so stupid. Why didn't I just go slowly and wait for another train? Why didn't I just drive or take a taxi?
I love cycling and I love public transportation, but you've gotta do it smart (now tattooed on my forearm). You can get trailers for bikes. You can get carts for carrying equipment. And paying for expensive parking is always better than broken bodies.