Hey there! If this is your first time here, why not sign up for updates via email in the sidebar over on the left? 😉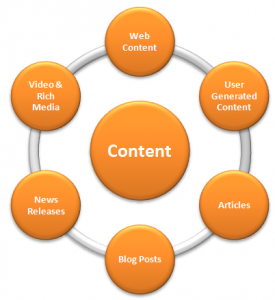 Everyone needs an online presence to define their unique voice in the community. If you are a yoga teacher, students want to get to know you and your teaching style. If you are a musician, fans want to keep up with your latest shows and recordings. If you are a bronze casting foundry, artists want to see what you are working on and hear about your process.
The best way to share this is by publishing fun, insightful, engaging content to connect with your client and establish your area of expertise. By writing articles, recording podcasts, and publishing videos you express your passion and skills. When content is high quality, regular, and easy to find, search engines will favor you. Your audience will gather and the perfect clients will be drawn to you through shared ideals. Your site is a hub and your content is the spokes moving through channels and networks to support a wheel in motion.
I am diving headlong into the world of content strategy, management, and creation. For the last two years I have created content for my own sites and am ready to use what I've learned to help other businesses and entrepreneurs.
Sound Design Live – A podcast for live audio professionals.
Big Time Dates – The only 30-second dating podcast guaranteed to make you laugh.
Nathan Lively – My personal blog on audio technology, travel, and deep thoughts.
Different professions have different needs. The yoga instructor Daniel Scott is great at creating material. He just needs someone to organize it and hold his feet to the editorial calendar fire. On the other hand, a company like Omega Bronze is creating amazing works of art, but needs someone to setup their site, document their work, and create interesting promotional videos. Whatever your level of engagement, having a strategy for valuable content will help your message go farther and make your connections deeper.
Strategy. Content. Results.