Hey there! If this is your first time here, why not sign up for updates via email in the sidebar over on the left? 😉
I've been going through the transcriptions of my Sound Design Live interviews to find good material for my eBook. I came across this great story from bay area DJ, William Wardlaw, about meeting a transcendental experience on the dance floor. It probably won't make it into the book, but I wanted to share it in some way. You can listen to the entire interview at the bottom.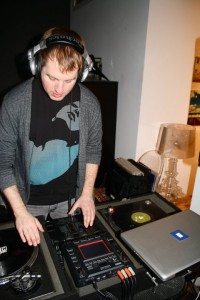 You told me a story once about this cathartic moment you had at a club in London that made you realized the power of, I don't know if I can say dance music but the power of music or being a DJ in general so I was wondering if you could sort of tell that story and then lead into why you still go out to shows and what is great about a club experience I guess. Is that too many questions in one?
No, I like it. Well, I was lucky, I was in the honors program at North Carolina Chapel Hill, just saying, and the honors program has this small study abroad program. One was in Prague, but one was in London and my junior year, I spent my fall semester doing the honor semester abroad in London and it wasn't my first time to Europe. I've studied abroad for a month at a time when I was 16 and 18 in Germany but I grew up in Ohio and in general, being the heterosexual kind of dorky dude in Ohio and in North Carolina means you aren't exposed to very much dance music I liked. I won't get too off topic but it suffices to say my awareness was pretty much Fatboy Slim, Chemical Brothers, Crystal Method and that was about it as far as electronic dance music is concerned.
When I was living in London, one of the world's top clubs hands down is Fabric, and I was within walking distance of Fabric, just a couple of blocks away and I knew it by reputation. I don't even really know how. I think probably through URB Magazine. The moment that you mentioned, it was really a collection of moments but just the sense of being in a room that sounds perfect and if anyone has been in room 1 of Fabric, that room sounds perfect. It's so just, the sound is amazing. Room Two is awesome in like a banging warehouse sound but, Room One is just something else and world class is really the best way to put it.
To be in a room with positive people, you're so packed in that your arms have to be by your side or above your head because there is… You can't do like your elbows out because that's just not an option. You'd be a jerk trying to do that because you're just going to… So, you've just got like no personal space but you've got complete anonymity. People around me couldn't be less interested in who I am or in checking in with my ego essentially and that's a recipe for a possible transcendent experience.
It changed my life. I knew that there was a lot about that experience that I wanted to keep experiencing and unlike a lot of people, for me, it wasn't about – it wasn't a drug fueled experience. It wasn't an alcohol fueled experience. I couldn't afford to drink. I didn't do drugs but I couldn't afford to do drugs even if I did do drugs really because I could barely afford to get into the door.