Hey there! If this is your first time here, why not sign up for updates via email in the sidebar over on the left? 😉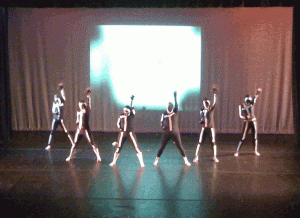 Last weekend's production of 10MinMax by Dance Umbrella at The George Washington Carver Museum And Cultrural Center gave me an opportunity to test out a networked Host-Remote Qlab setup. This years production included 24 works and over 80 artists. Two pieces included video plus I created a slideshow for intermission. There were a lot of first for me on this show. I had never run video cues, neworked Qlab playback, or had Production Manager duties.
Running video cues with Qlab turned out to be a snap because a lot of the details were automatic. It resizes to fit the screen, protects aspect ratio, and fills the background with black when you're not playing. Creating a looping slideshow was kind of tricky because once a still image is played, it wants to play forever, so the next image might come up, but the other ones are still there. I solved this by putting stop cues for the previous image to automatically follow each new image. Then you just need a start cue at the end to take you back to the top.
Sending midi machine control over a network seemed complciated at first while using OSX's built in Audio Midi Setup. Turns out that it was creating a feedback loop somehow and once I switched to ipMidi it worked fine. So much more simple than all of the challenges I faced while setting up Software Audio Workstation for the Route 66 tour. Thanks to Figure53 for their excellent customer support.
I had done some technical directing before, but never production management. It's one of those all encompassing jobs. You are with the product from it's inception to it's delivery. In this case I basically filled in all of the management holes to make the production happen with our limited staff.
We had many performers this year compared to last year plus lots of lighting problems, but the show turned out well. I especially enjoyed Emily Shaw's duet choreographed to spoken word and Verge Dance Company's piece with live musicians onstage. After Saturday's show I met Acia Gray who I hadn't seen in almost 10 years. Sometimes I worry about Austin's lack of high quality productions and forget about how special it really is. Did you know that Tapestry, Acia's company, is the only professional tap company in the US?
More photos available on here.